Dear Members Welcome to our first newsletter for the year. It has been a while since our last
communication, a few things have happened, and I hope you are all in good health.
We held a very successful AGM and Corps Birthday celebration in November 21. The Birthday
celebration was held in conjunction with the REME Association, SA Chapter Christmas Lunch. This joint approach proved to be a great way to acknowledge our Corps Birthday and Christmas with our REME friends. Over 80 people attended the function, and it was great to see the raffle prizes shared amongst both organisations.
The two main outcomes of the AGM were the election of Office Bearers and formal confirmation of our Association name change. Firstly the election of Office Bearers, as per previous years the existing
committee was re elected unopposed. The full list of committee is on page 1 of this newsletter.
I would like to thank the willingness of the committee members to remain in their respective roles and continue to play a key role in the ongoing success of the association.
With regard to the name change, it has been a long drawn out process. This is largely thanks to the
complexities of working with the Office of Consumer and Business Services (OCBS). Despite the challenges, our Secretary, Don Harvy managed to see this task through to completion. Thanks to Don's patience and perseverance he even managed to have all related OCBS administration costs waived. It is also important to note that no OCBS staff were seriously harmed at any stage of this process.
On a sad note, in December, we farewelled one of our long-standing members Bob Davis. Bob passed away after a fall at his home. The Association was well represented at Bob's funeral service and our thoughts and best wishes were extended to Bob's wife Pat and his family. Bob was no nonsense soldier who was quick to give his thoughts and had no time for laziness or time wasting.
One of my favourite stories from Bob was the day he was advised of being charged by his LT. Bob's response was "you couldn't charge a flat battery mate". Anyway, we can all guess that didn't end well for Bob but he did maintain his sense of humour at all times. There is a small article about Bob in this newsletter.
In the past few months, the Executive Committee members have been working on a clean-up of the
membership records system. This proved to be a very worthwhile task which has resulted in many
membership renewals being actioned and more importantly the membership information becoming
more accurate. There is a bit more information on this topic in this newsletter.
I recently caught up with our Honorary Colonel Commandant, Colonel Andrew Herbert. He was in
Adelaide on personal leave and took the time to meet up and discuss Corps and Association topics.
We are hoping some funds may be available this year to support an official visit and attendance at a
function. COL Herbert sends his regards to all RAEME personnel and his Best Wishes for 2022.
You would have all received an invitation to the annual Anzac function. The function this year is being held on Saturday 23 April at the West Adelaide Football Club. It is important everyone attending the function RSVP to assist with catering arrangements at the venue. Full details are also included in this newsletter. See page 7.
Anzac Day this year looks to be on track for a good day however we are waiting on more details
regarding any restrictions that may be in place. Full details will be sent to all members once they are
known.
I look forward to catching up with everyone at our functions throughout the year.
Arte et Marte
Richard Moyses, President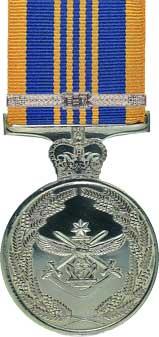 Association member, WO2 Doug Pammenter is to be presented with the Federation Star at a ceremony in Canberra on 20th April. The Federation Star forms part of the Long Service Awards and is presented to members of the Defence Force who have provided 40 years of service. The most common long service award is now the Defence Long Service Medal (DLSM).