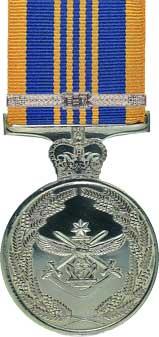 To be eligible for the DLSM 15 years of service must be reached. At each subsequent 5 years of service, a clasp is presented and worn on the medal. Clasps are therefore presented at 20, 25, 30, and 35 years of service. These are replaced by a single silver Federation Star for the fifth clasp. Additional Federation Star emblems are added for subsequent clasps.
I think we can all appreciate that there are not too many people who would become eligible for this recognition and acknowledge that 40 years of service is an outstanding achievement.
Given the importance of this award it is very appropriate to delve into some of Doug's history in relation to his time in uniform. It is common on occasions such as this to use the term "40 years of undetected crime", unfortunately I cannot do that as some of Doug's crimes have been detected, but it would not be appropriate to detail them now.
Douglas Murray Pammenter first enlisted on the 19 July 1966 as a young 19 year old and was allocated 433217 as his regimental number. He was posted to 107 Field Workshop, which in those days was at Keswick.
Doug was very keen to serve overseas and in October 1969 he transferred to the Regular Army as a National Serviceman and after recruit training at 2 RTB he was posted to the School of Military Engineering as a Sapper.
It was here that Doug prepared for deployment to South Vietnam. In June of 1970 Doug started his tour and as was the norm in those days spent the next 12 months deployed. It is very important to mention that on 23rd May 1970, 1 month before departing, Doug married Pauline. Pauline suspects that Doug was keen to get the extra allowance that was paid to married men, and that is why they had to be wed prior to him departing.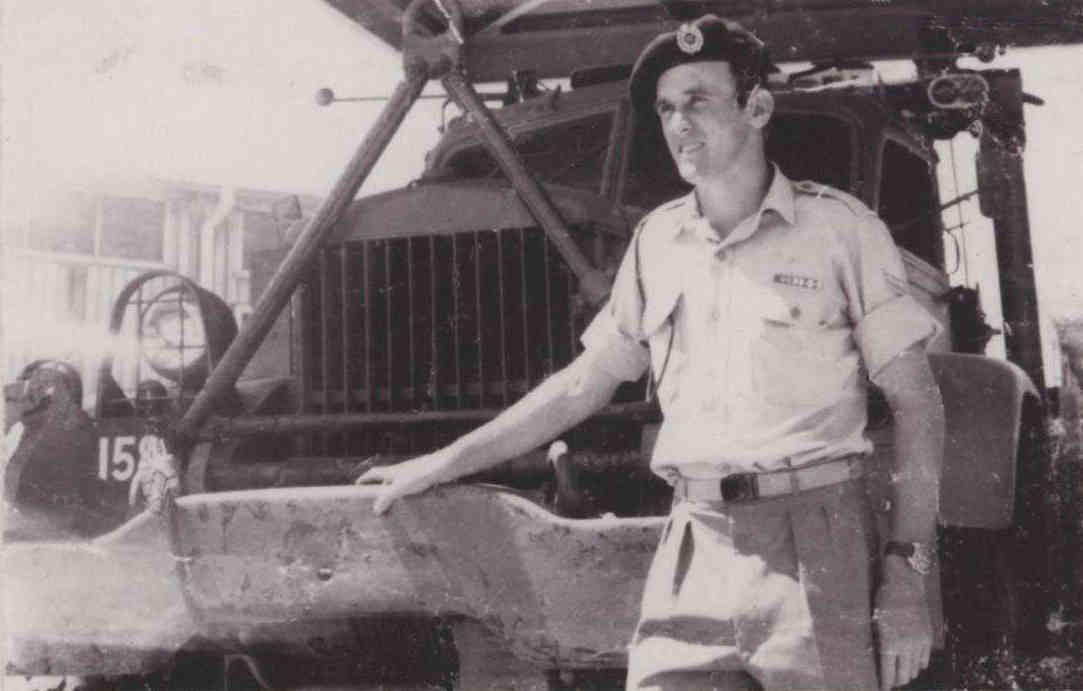 Doug returned to Australia in June 1971 and after meeting his commitments transferred to the reserves in March 1972. Recovery was the trade of choice for Doug and he has been heavily involved in the trade ever since.
Postings for Doug include 107 Field Workshop, 4 EME Services Unit, 9 BASB, 9 CSSB, and ALTC where is he currently a supervisor in Recovery Wing.
When looking at a print out of postings in a career of 40 years you quickly realise that what is missing is the list of exercises attended, and units that have been supported at some time by Doug and his wrecker. Always keen to be involved Doug, has a very hands on approach and is still not afraid to get dirty when the need arises. I do however believe that he has stopped wearing pre-stained overalls. There would not be too many Recovery Mechanics that at some stage have not been trained or assessed by Doug, particularly over the last 10 years. While Doug is known for his recovery trade he is also a very accomplished camp cook (just ask him), pretty handy with electrical jobs (his civy trade) and not too bad at drinking cold beer.
Doug has been awarded the Vietnam Medal, The Republic of Vietnam Campaign Medal, Australian Active Service Medal with Vietnam Clasp, the DLSM (with 4 clasps), Anniversary of National Service Medal, and the Australian Defence Medal along with the Returned from Active Service Badge.
Doug and Pauline travel to Canberra in April and will attend the presentation ceremony with 3 other recipients of the Federation Star. The ceremony will be conducted by Chief of Army, Lieutenant General Gillespie AO, DSC, CSM, and RSM Army Stephen Ward. A special lunch will follow and no doubt Doug will take the opportunity to provide advice to all in attendance.
Doug and Pauline are staying on for a few extra days so they can celebrate their 40th wedding anniversary while looking around the Australian War Memorial.
We congratulate Doug on his achievement of 40 plus years service and wish him and Pauline a great time in Canberra for the presentation.